It's easy to forget to look after yourself but summer is the perfect time to give your body extra TLC! Our 10 steps to a healthier you will ensure you stay happy and healthy when the sun comes out to play.
1. Don't Forget Your Sunscreen for Healthier Skin
Many people don't realize that sun damage can still occur on a cloudy day! In the hot summer months, you should be using sunscreen of SPF 30 – 50 to protect your skin. You should also avoid sitting out in the sun for too long during peak hours of 10:00 – 16:00.  If you're going to be exposed to the sun for long periods of time, take extra care. Make sure that you reapply your sun lotion every two hours and immediately after being in the water.
2. Get Enough H20 for a Healthier Body!
Speaking of water, it's super important to stay hydrated in hot weather. All of that heat and sweat can lead to dehydration and even sunstroke. Make sure to have water on hand throughout the day and try to drink about 3 liters if possible. If you're not a fan of the taste, you can add some slices of fresh fruit.
3. Don't Skip Breakfast
Breakfast is often said to be the most important meal of the day and this definitely applies during the summer months. Skipping breakfast when the sun's out can lead to dehydration and even fainting! Fuel your body with a healthy breakfast to avoid these risks and give yourself an energy boost!
4. Don't Go Overboard With Sugary Drinks
It's easy to reach unhealthy beverages without thinking twice when the sun is hitting down. But high-calorie drinks like soda, alcohol, and sugary ice tea should really only be a "now and then" treat. Swap the sugared iced tea for unsweetened iced tea which is full of health benefits. And always opt for a glass of water before a can of soda when you can.
5. Keep Your Diet in Check
There's nothing wrong with a nice cooling ice cream on a sunny day. But don't forget to make sure your body gets the nutrients it needs with a healthier lunch. If you're heading to the pool or beach, fill your cooler with some water, fruit, sandwiches, and salads for when those hunger pangs hit.
6. Practice a Gratitude Mindset
Studies show that staying positive helps to build a healthy immune system and improve your overall well-being. A positive mindset promotes relaxation, reduces anxiety, and combats physical and mental fatigue. Try a gratitude journal to write down three things you're grateful for every single day. You'll be surprised at the effect it has on your overall wellness.
7. "Healthify" Your BBQ
Everyone loves a summer BBQ but it's not usually the healthiest of feasts! Try grilled chicken or fish with veggies on the side, instead of the usual hotdogs and hamburgers.
8. Exercise
The summer heat can make it difficult to do a lot of activities. Combat this by exercising early in the morning when it's a bit cooler. Yoga, weight circuits, brisk walking, running, and cycling are all great options for your workout to get your endorphins flowing. Set your alarm to go off a little bit earlier… and don't hit snooze!
9. Get Enough Sleep
The summer months are full of activities but this means that you also need adequate rest. Without enough sleep, you'll start to feel rundown pretty quickly. Try to get at least 7 hours a night and fit in a power nap when you can (as needed).
10. Take a Break
Even the biggest workaholics need a break (and even more so! Summer is the perfect excuse to take some time out to relax and unwind. Whether you book a getaway or simply take a few days off it's the perfect opportunity to reboot and recharge.
Start With A Complete Body Cleanse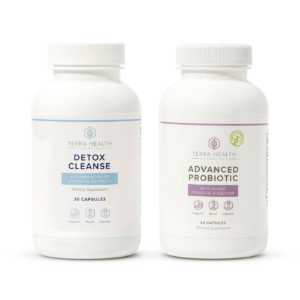 We've developed a Gut Reset Kit to restore optimal wellness in your gut and body as a whole. This best-selling kit will rid your gut of unnecessary toxins and get your digestive system functioning at 100%.
Our Gut Reset Kit is now available to Terra Health Essentials readers at a reduced rate thanks to our new 30% discount code! To avail of this offer just add the code: completewellness30 when placing your order.
Don't forget to follow us on Facebook where you can contact us anytime with questions or a customized treatment plan!